Tropical Weather Page
[Last updated 4:45am CDT 06/03/2020]
---
---
TROPICAL HEADLINES
  Tropical Depression #3 has formed in the southern Bay of Campeche (the southwestern Gulf of Mexico) and the Nat'l. Hurricane Center is issuing advisories.
    

 Here is a list of the names that will be given to tropical cyclones that develop in the Atlantic Basin1 this year (2020): 
Arthur, Bertha, Cristobal, Dolly, Edouard, Fay, Gonzalo, Hanna, Isaias, Josephine, Kyle, Laura, Marco, Nana, Omar, Paulette, Rene, Sally, Teddy, Vicky, and Wilfred. 

Here is a list of the names that will be given to tropical cyclones that develop in the Eastern North Pacific Basin2 this year (2020): 
Amanda, Boris, Cristina, Douglas, Elida, Fausto, Genevieve, Hernan, Iselle, Julio, Karina, Lowell, Marie, Norbert, Odalys, Polo, Rachel, Simon, Trudy, Vance, Winnie, Xavier, Yolanda, Zeke.


1 The Atlantic Basin consists of the Atlantic Ocean, the Caribbean Sea and the Gulf of Mexico, as well as lesser bodies of water.
2 The Eastern North Pacific Basin is the Pacific Ocean off the western coast of Central America, Mexico and California, as well as the Gulf of California.

---
2020 Indian Ocean Tropical Cyclone Season
>>NIL<<
---
Southern Hemisphere Tropical Cyclone Season

>>NIL<<
---
Joint Typhoon Warning System TC Watch Graphics
(Click on image to enlarge)
---
---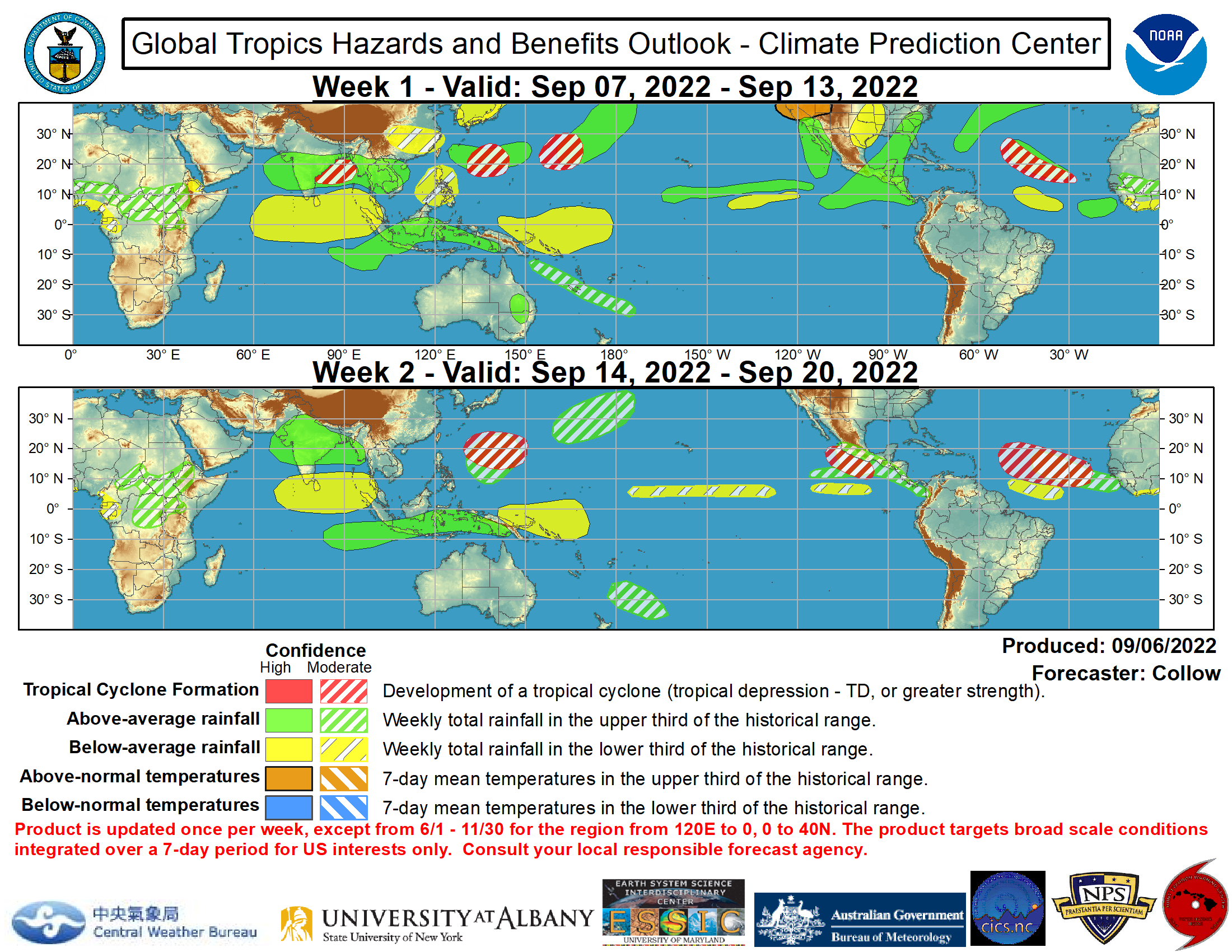 ---
What source of energy drives tropical cyclones?

The energy to drive tropical storms and hurricanes (more properly called "tropical cyclones") comes from the warm waters of the tropical and subtropical oceans. With modern satellite technology, we are able to monitor the sea surface temperature on a regular basis, and from this information, we get some idea of what areas may e conducive to storm formation. Tropical cyclones require very warm water (generally 77 deg (F) or warmer) in order to form. The image below is updated daily and provides a view of current sea surface temperatures.

Latest Sea Surface Temperatures worldwide
[Source: Space Science and Engineering Center, UWisc-Madison]


The warmer waters produce increased conversion of sea water into water vapor (by way of evaporation into the atmosphere). The air near the ocean surface becomes very moist. Passing disturbances moving east to west (in the Northern Hemisphere) lift the lower atmospheric air (and the water vapor in it). As the air is lifted, it cools, and vast amounts of energy (heat) is released by condensation of te water vapor back into liquid water. If conditions in the middle and upper atmosphere are "right", a low pressure area will form at the surface and a tropical disturbance (precursor of the tropical cyclone) may form.

---
The Saffir-Simpson Hurricane Scale
(excerpted from information from the National Hurricane Center, http://www.nhc.noaa.gov )
Category One Hurricane:
Winds 74-95 mph (64-82 kt or 119-153 km/hr). Storm surge generally 4-5 ft above normal. No real damage to building structures. Damage primarily to unanchored mobile homes, shrubbery, and trees. Some damage to poorly constructed signs.
Category Two Hurricane:
Winds 96-110 mph (83-95 kt or 154-177 km/hr). Storm surge generally 6-8 feet above normal. Some roofing material, door, and window damage of buildings. Considerable damage to shrubbery and trees with some trees blown down. Considerable damage to mobile homes, poorly constructed signs, and piers.
Category Three Hurricane:
Winds 111-130 mph (96-113 kt or 178-209 km/hr). Storm surge generally 9-12 ft above normal. Some structural damage to small residences and utility buildings with a minor amount of curtainwall failures. Damage to shrubbery and trees with foliage blown off trees and large trees blown down. Mobile homes and poorly constructed signs are destroyed.
Category Four Hurricane:
Winds 131-155 mph (114-135 kt or 210-249 km/hr). Storm surge generally 13-18 ft above normal. More extensive curtainwall failures with some complete roof structure failures on small residences. Shrubs, trees, and all signs are blown down. Complete destruction of mobile homes. Extensive damage to doors and windows.
Category Five Hurricane:
Winds greater than 155 mph (135 kt or 249 km/hr). Storm surge generally greater than 18 ft above normal. Complete roof failure on many residences and industrial buildings. Some complete building failures with small utility buildings blown over or away. All shrubs, trees, and signs blown down. Complete destruction of mobile homes. Severe and extensive window and door damage.

---
Comments or questions about this page? Contact me at tloncurtis@gmail.com